Damona

Full Name

Damona Kumzin Furst

Breed

Diceratops

Did You Know?

No less than 47 members of Damona's family have served in the DSS.

Planet Of Hatching

Likes

Winning, prizes, being admired.

Dislikes

Coming second.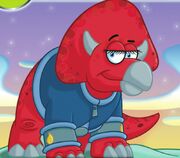 Damona the diceratops is a protagonist in the Astrosaurs Academy series and is a guest character who helps Teggs escape the FANG's control in Revenge of the FANG.
Appearance
Edit
Damona is a small red diceratops with freckles and two grey horns on her head instead of three. Her crest is smooth and rounded. She is always seen in her Astrosaurs Academy uniform or, after graduation, in a red astrosaur uniform with the two marks of a spaceship captain.
Personality
Edit
Damona is extremely competitive and is a bit of a snob, always bragging about her famous relatives who fought in important battles against invading T. rexes and raptors. However, she is very loyal to her friends, even to her archrivals Teggs, Blink, and Dutch, and is essentially well-meaning and good-hearted. She seems to have a mild crush on Teggs, although they are different species, and she teases him constantly. This is not hostile, however, and Teggs usually does not take offense at her teasing, especially as an adult. Despite their rivalry, Teggs considers Damona a friend, and vice versa. She was the leader of Damona's Darlings in the Astrosaurs Academy and was friends with Netta and Splatt, two other cadets.
Adult life
Edit
Astrosaur Damona

Full Name

Damona Kumzin Furst

Breed

Diceratops

Likes

Winning, Pink Spaceships, Teasing Teggs.

Dislikes

Evil baddies, People not thinking she's brilliant.

Planet of Hatching

Olympus.

DSS Rating

9 - Damona may be annoying at times, but she's still a top Astrosaur!
After Damona graduated from the Academy, she became the captain of the DSS Herbivore, and is a valued member of the DSS fleet. In Revenge of the FANG, she proves her loyalty to Teggs when he needs her help the most by listening in to his conversation on Tonka's space phone with Attila the Atrocious and accepting the truth about the FANG's existence.
Damona also appears in Earth Attack!, cheerfully greeting Teggs and Gipsy at the party at the end of the book, accompanied by Netta and Splatt. Together they are seen celebrating the defeat of General Loki the velociraptor
Other Images
Edit