Flappo the Fearless(there is no collector card!)

Full Name

Teggs Horatio Stegosaur

Age

25

Rank

After spending so long in that costume, what do you think?

Planet Of Hatching

Steggos

Likes

A good clean flight.

Dislikes

Air sickness, feathers up his nose.

DSS Rating

10 - Teggs becomes Flappo so he can take on the wicked Grandum. Let battle commence!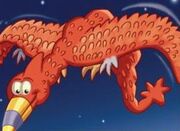 Flappo the Fearless only appeared in The Skies of Fear, but he was really Teggs dressed up in a pterosaur costume. "Flappo" appeared to be a massive red pterosaur, covered in feathers, with a purple stripe down his beak. Teggs took on the disguise of Flappo so that he could challenge the evil Grandum, who was secretly a woolly mammoth in disguise. Grandum and Flappo participated in the Trials, but Grandum replaced Chief Judge Floss with one of his mammoths when he realized that he was losing. Not surpisingly, he began to win every round after that, despite protests from Joss and Moss. During the final Trial, Grandum attacked "Flappo" and exposed him as Teggs when the stegosaurus sneezed from a loose feather in his nose.