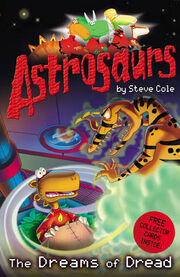 The Dreams of Dread is the sixteenth book in the Astrosaurs series. The cover art features Teggs in bed, looking up at General Loki, who is rearing up from a blue mist. In it, Teggs, Arx,Gipsy, and Iggy have been sent by the DSS on a quadrant-wide hunt for their old enemy General Loki, the most dangerous raptor in space, who has mysteriously escaped from space prison without using a spaceship. The Sauropod runs into a swarm of alien meteorites and is forced to make an emergency landing on the planet Mallakar. On Mallakar, strange creatures begin to appear from the dreams of the Sauropod crew, now dangerously real. Meanwhile, General Loki himself has appeared on board, a vicious kraggle-scruncher is on the loose and all of the ship's pterosaurs have mysteriously vanished. Can Teggs and his crew catch Loki and escape this nightmare world?
Cards Included
Edit
Prehistoric animals featured
Edit
Writing of the book started in September 2008.
In the June 2009 Steve Cole Newsletter, Steve Cole said: "On the cover, Teggs is showing off his pyjamas. I went to great lengths describing them so they are just as Woody Fox drew them in The Skies of Fear. And then, for the inside of Dreams of Dread, Woody drew him wearing a different pair anyway - d'oh!"
Cover Gallery
Edit